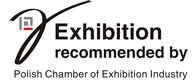 18.04.2019
May the Easter time be filled with all colors of the rainbow, spring-like atmosphere and smile, and may it be a break from everyday life.
27.11.2018
The most important event of the stone and glass industry, which included the Stone Industry Fair - STONE and Glass Industry Fair - GLASS ended on Saturday, November 17th. The fair events took place in four exhibition halls and were participated by over 220 exhibitors, and the number of professionals who visited the exposition, exceeded five thousand.
06.11.2018
For centuries, harmonious cooperation of the stone and architectural industry has been the basis of design. However in the recent years it has become more and more visible that the needs of professionals from these industries intermingle in the business reality. This observation gave rise to a new direction of development of the stone industry fair STONE which is held each year at the premises of Poznań International Fair.
More news
---

Next edition STONE Fair: 20-23.11.2019, Poznań (Poland)